Japan 2010: The Last (Full Family) Trip
With Nicholas off to college, it looked likely this might be the last time we all went somewhere together. So we dug into the reserves and planned a visit to western Japan, just a bit belated relative to Nick's 18th birthday. Nicholas planned the trip, hitting places he'd seen too briefly in the 2008 Japanese class trip. Starting in Osaka, we'd make a day trip to Nara to see the big Buddha (within the world's biggest wooden building), stop in Himeji for the castle, and continue to Hiroshima. A visit to the nearby island of Miyajima, a day at the Peace Park, and some improvization on the return trip to Kansai...





Here's a shot of Osaka from the Kansai-to-Osaka JR train. A big city, rather like other big cities in Japan. If you want to go to a city to visit, see Kyoto.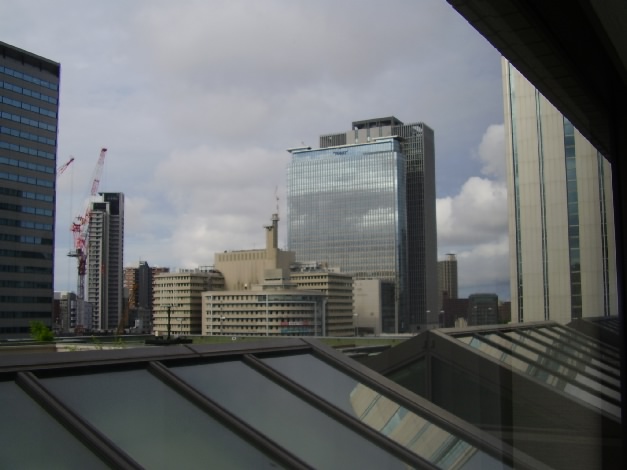 But it does have a nifty train museum (described below), a lovely castle and grounds, and a spiffy and reasonably-priced Ana Crowne Plaza hotel.

In Nara, the deer are very interested in anyone who buys some deer food from the numerous vendors.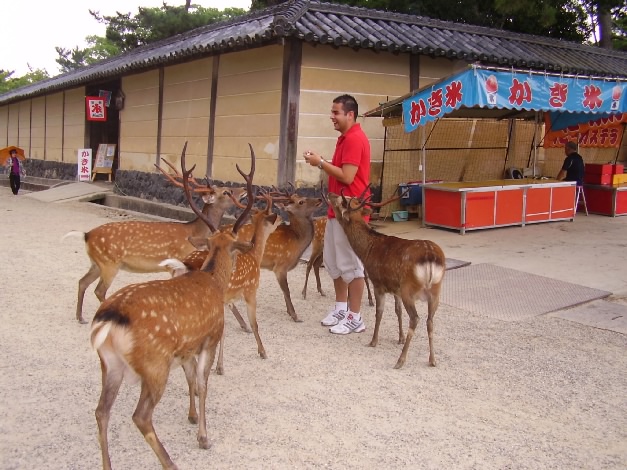 If you're not carrying food they merely put up with you.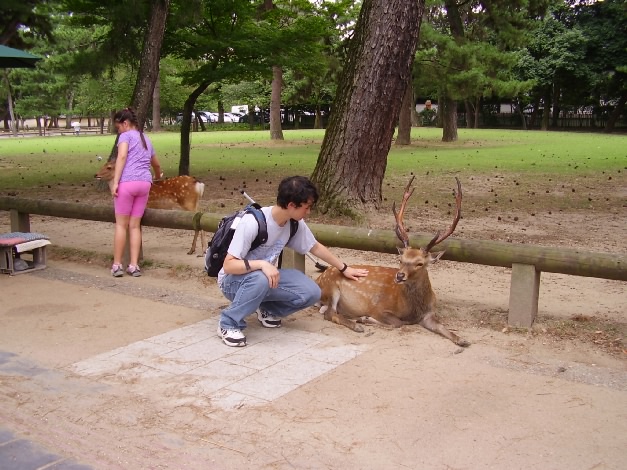 In Nara there's a very big Buddha in a very big wooden building.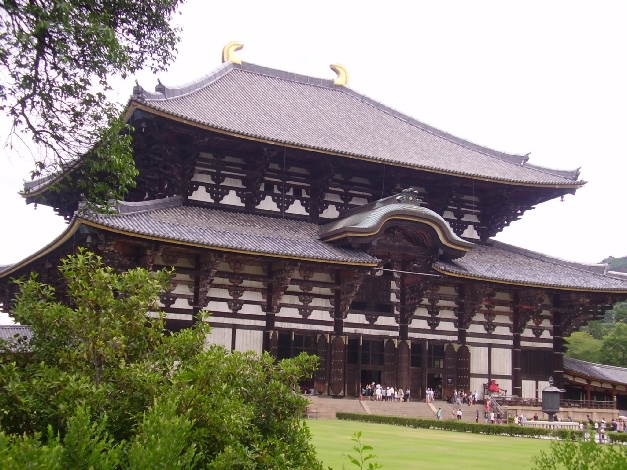 The sheer scale of the Buddha is not apparent in this photo ... he is really big. I guess you had to be there.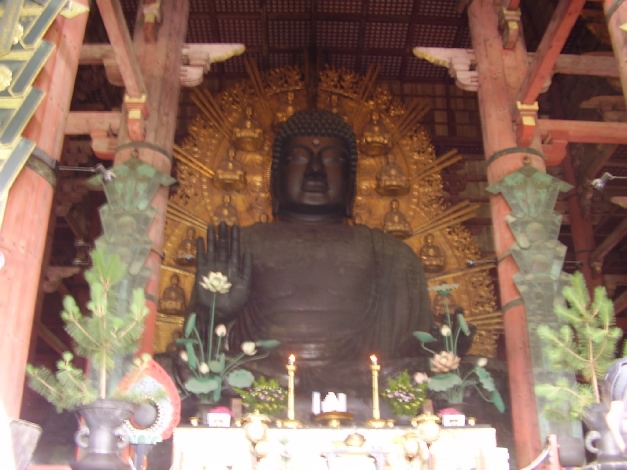 It's really hot in Japan in the summer. All the time. Even the deer have to take a rest after a hard day begging food from tourists.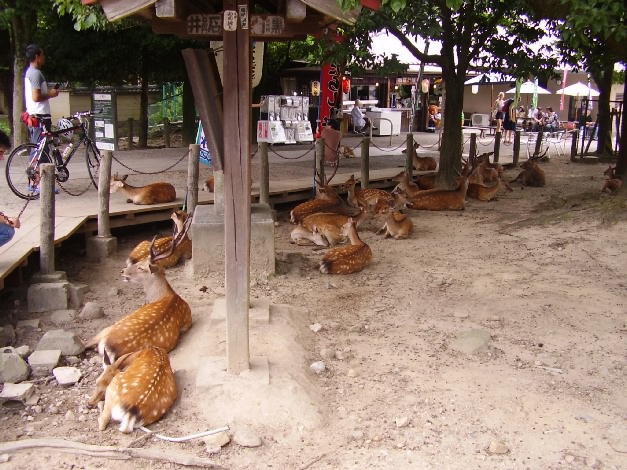 Covered open-air malls are a common feature in many towns. They're a nice place to get out of the sun and part with some yen.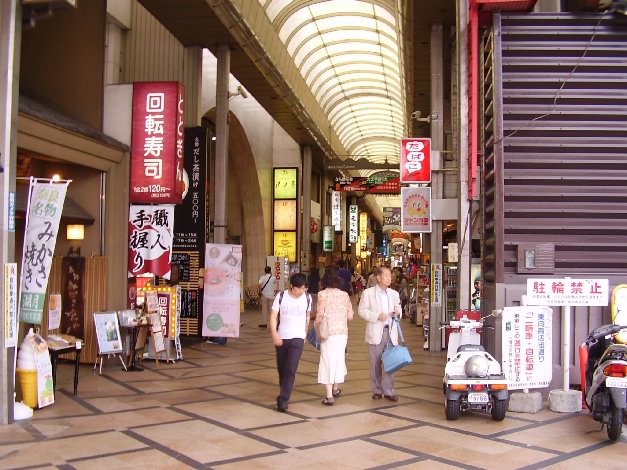 In the US they might stick some poor person in a dog suit, but in Japan a different kind of mascot is used to keep the kids occupied...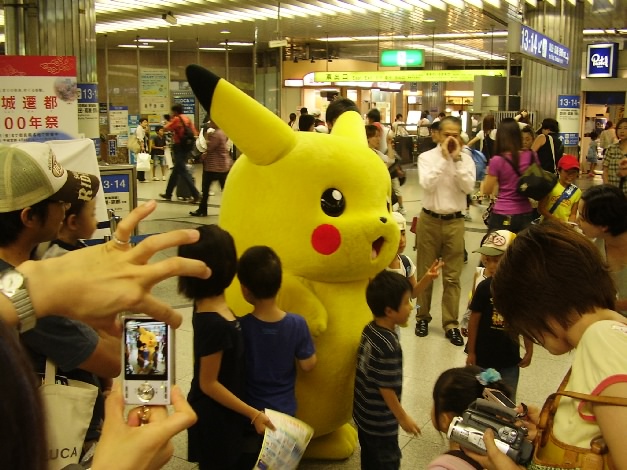 Himeji Castle was being restored and not fully accessible -- just as well since we got there late in the day.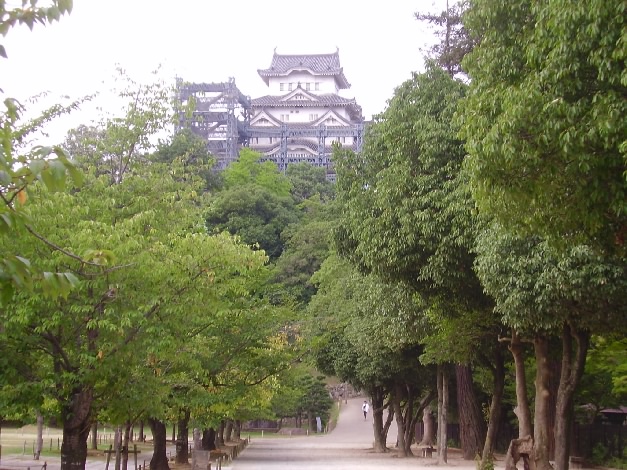 The cats that live on the castle grounds really don't care what's happening to the castle, though. After all, they are cats.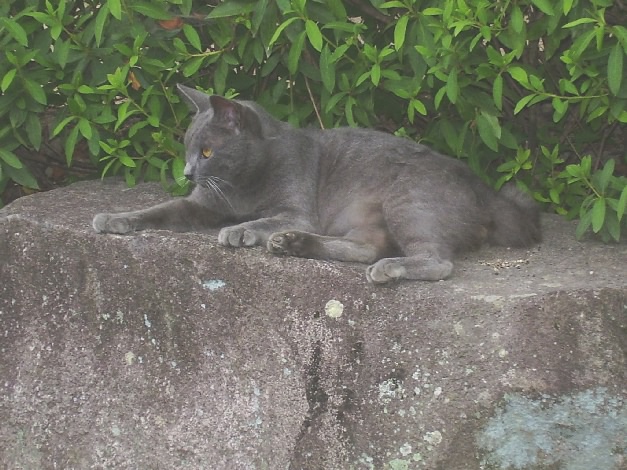 You can get really spoiled riding trains in the Japan. Traveling at 200 km/hr without a bump enables you to get work done on the laptop without feeling ill afterwards. Really cool.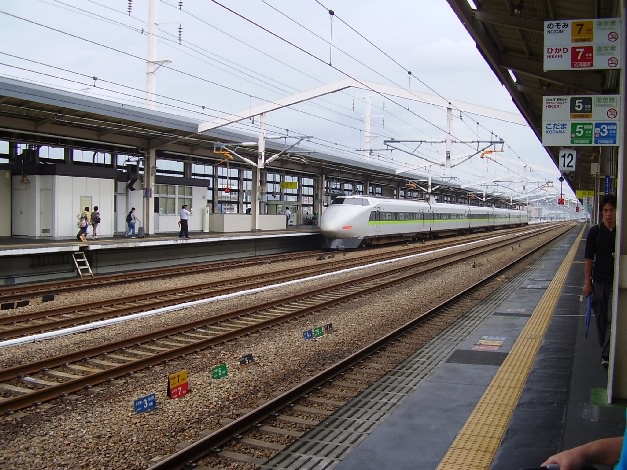 If you go, consider a JR rail pass. They get you (almost) everywhere. When you arrive in Japan you can reserve Shinkansen seats at the JR office; it takes a while but is worth the time, as you never know when a specific train could be packed to SRO.

The Carp are the Hiroshima pro baseball team. Their image is pretty close to ubiquitous: many sewer covers have Carp logos (not something a marketing person would approve of in the US). Though we stayed very close to the ballpark, they happened to be out of town so we didn't go to a game. (OK, I didn't go; the rest of the family is NOT into baseball.) But you can't escape baseball on Japanese TV -- there's a game on some channel every hour of the day.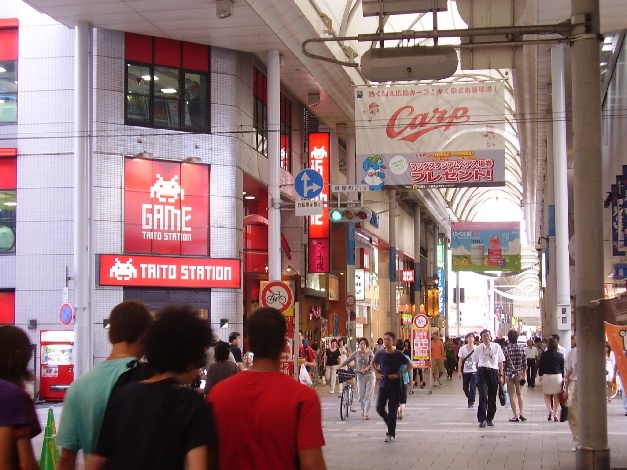 Okonomiyaki -- a crepe sandwich with noodles inside -- is a regional specialty.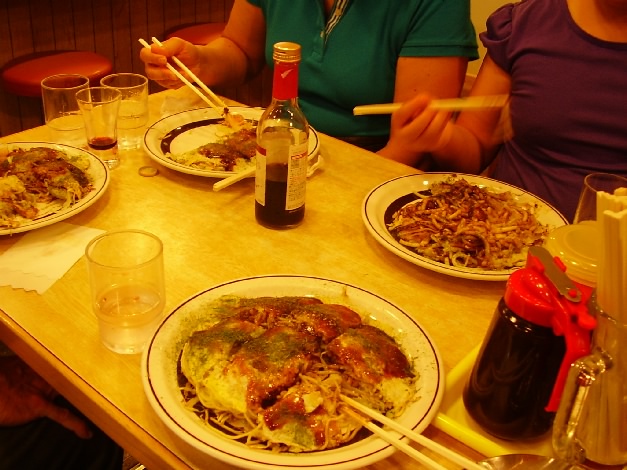 In Miyajima (an island near Hiroshima), there are no deer food vendors. It appears some deer make ends meet working for the municipal government.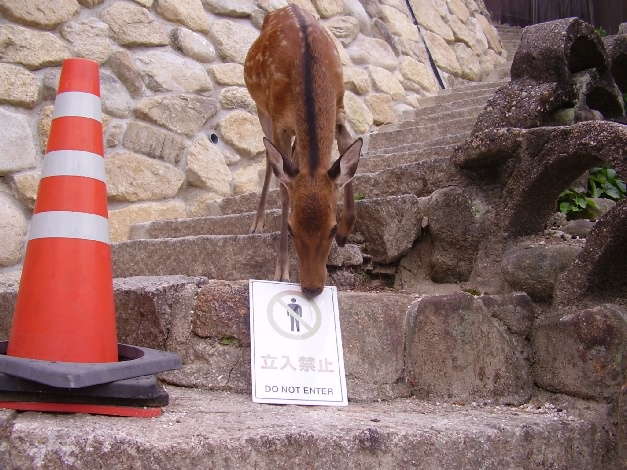 Others take it upon themselves to intimidate tourists.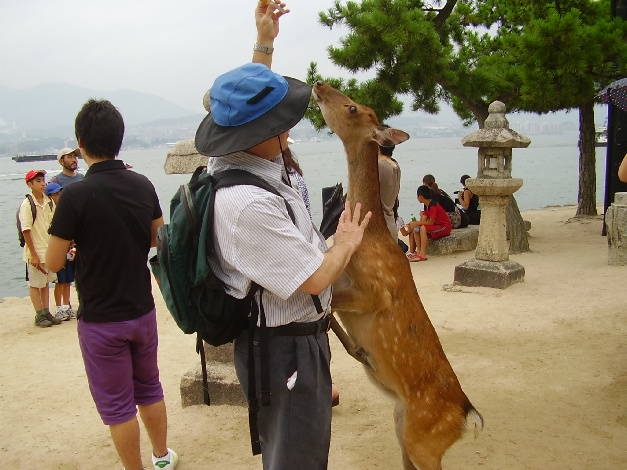 OK, that's me. I was just trying to find a trash can to discard the fish cylinder I had foolishly purchased when we arrived. Turns out there just aren't any trash cans in Miyajima. I guess the folks there are really clean to start with.

Miyajima is known for the lovely shrine built over the water (at least when the tide is in).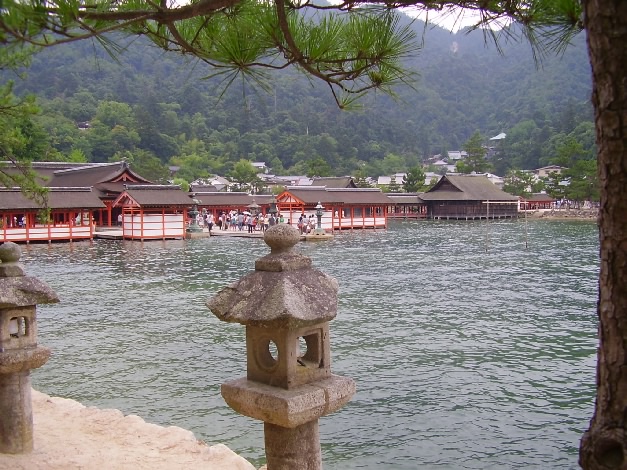 There's also a bit of beach, where Amelia took a moment to play in the water.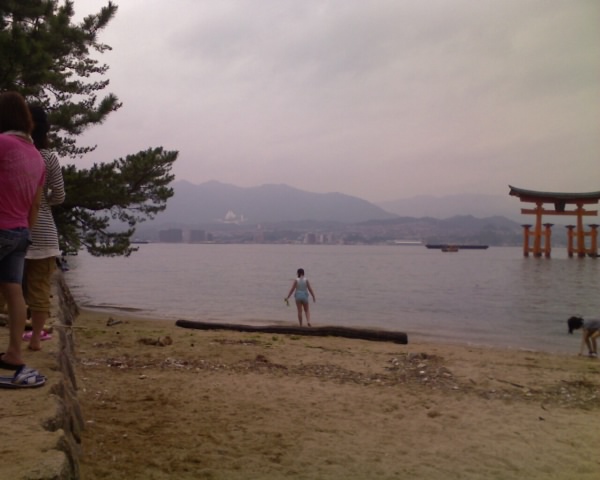 Mommy did not approve.

A monkey and his pet human provided entertainment.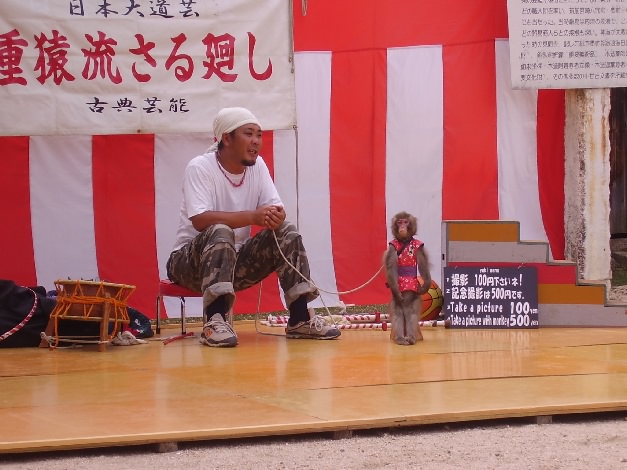 Since I can't read Japanese I can assume that the words say they're splitting the take 50:50.

A bit of an uphill walk takes you to the "ropeway" (we'd call it a tram in California): a two-step transport to the top of the island, with a lovely view of the inland sea.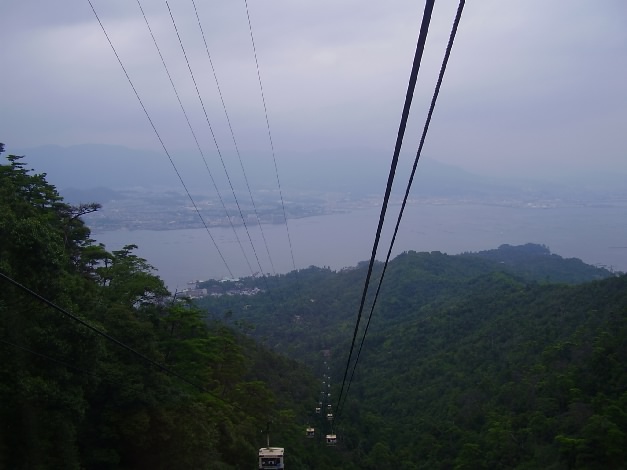 Back in Hiroshima: the grounds of the Peace Park, a memorial to the victims of the first atomic weapon used in war. In the distance you can see the dome of the brick building essentially at ground zero that partially survived.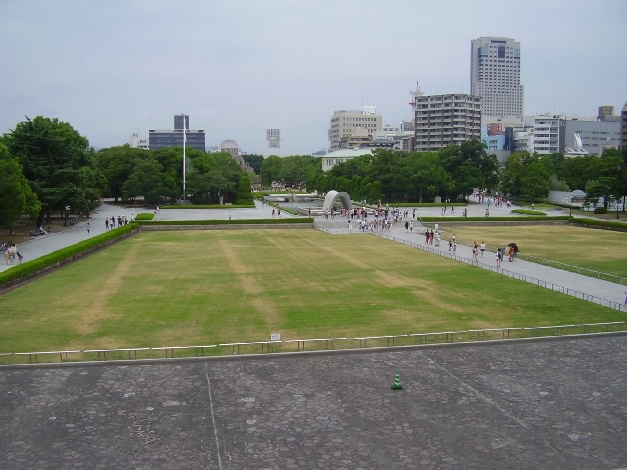 The museum was crowded with people and memories.

We join the people of Hiroshima in hoping we won't have to build more memorials like this one.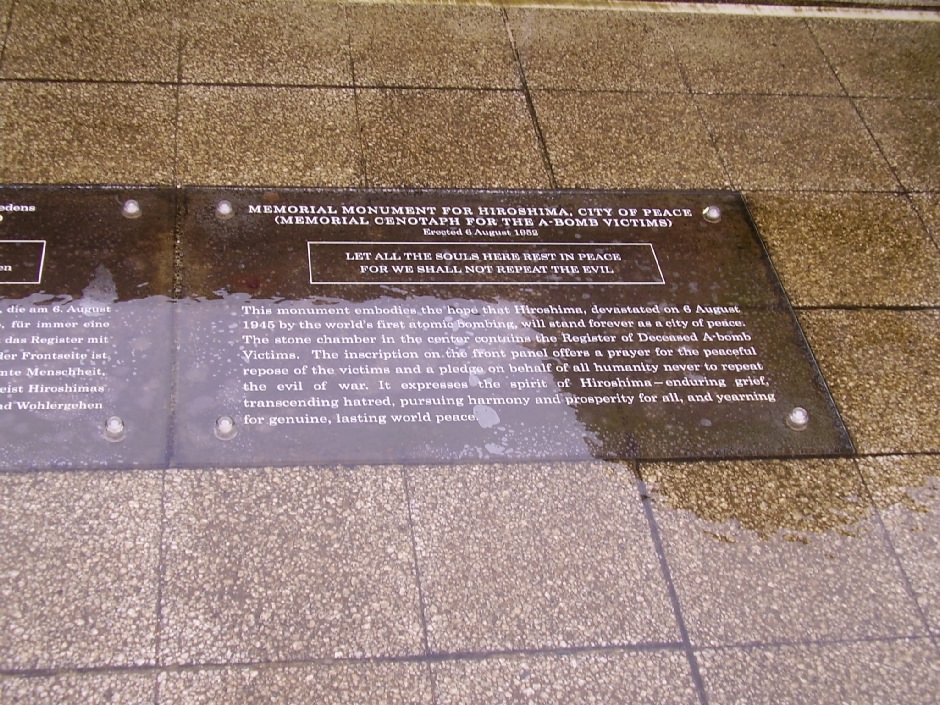 A typical daytime train in Japan. Just a little bit crowded.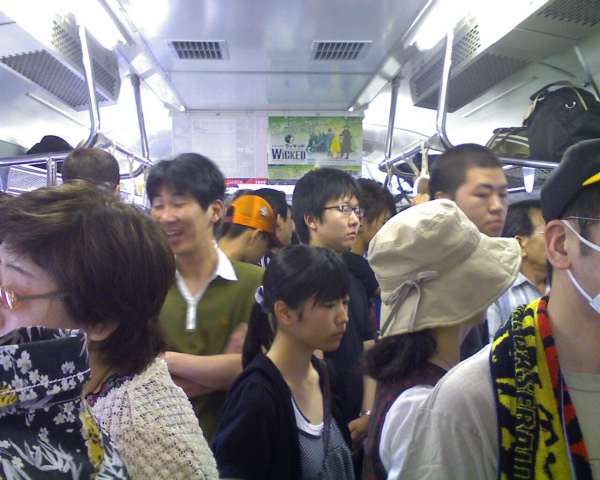 There's not a lot of room in a Japanese city. This is a really interesting parking lot. Each car gets loaded onto a big conveyor belt and is moved pretty much straight up. You just wait until yours shows up; like a cleaners here in the US.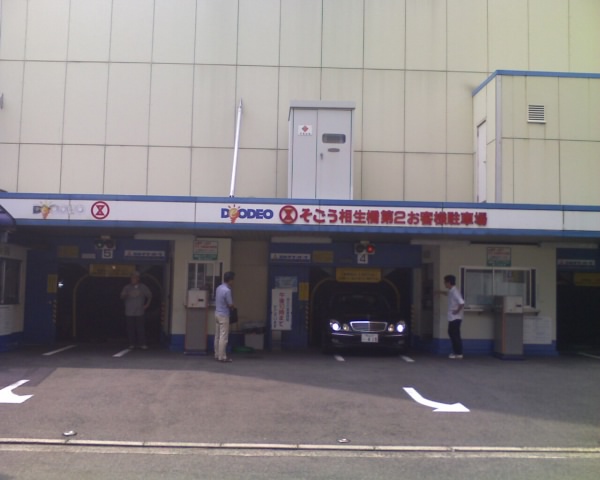 On the way back, we stopped at the Transportation Museum (really a train museum) in Osaka, while Nicholas went shopping. It was a lot of fun for Amelia. Here we see her as an Engineer in one of the trains parked outside the museum building.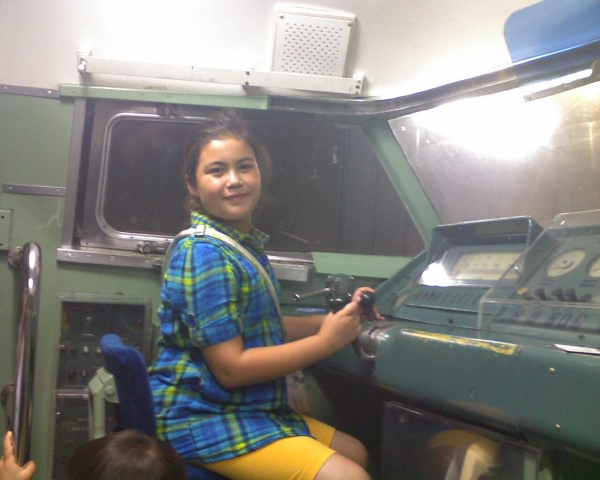 The Museum had a really cool model train. They run a show there every hour or so, and as you can see it's well-attended. Trains zipping everywhere, though I imagine the little boys were disappointed by the lack of any crashes.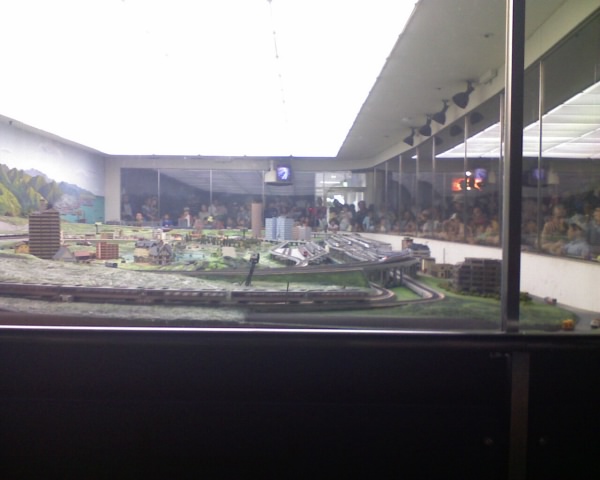 Then back to Kansai and home, flying United, where the entertainment system works some of the time and if you like what they serve you can sort of get enough to eat if you had a snack in the airport before you left. Take JAL or Singapore or Cathay.

But to misquote Harry Chapin, it's got to be the having been there, not the getting home afterwards, that's good.

Sayonara and arigato.

Pretty much the only Japanese I know. We were lucky Nick is fluent.